The Case For Her has rarely had the whole team in Sweden over the past few years. Ironically, we are all in Sweden now, but like many of you, not able to meet one another at the office. However, we are in the same time zone and for that we are thankful. This spring would have been one of our busiest seasons with an unprecedented number of the projects and partners in our portfolio having major conferences, meetings and makeathons. We were fired up, plans laid and tickets booked! Overnight, the schedule was cleared and we were essentially grounded.
Leveraging our strengths as a lean, privately funded organization with a fast moving team, we have shifted gears and sped up to support our partners to address Covid-19 from strategic design thinking to front line interventions. We have accelerated on all fronts to get funding out the door in days, not months to fill gaps before other funding and support can become available.
At The Case for Her, our areas of investment are the key women's health issues of menstruation and female sexual health, both of which are under increased threat by the global pandemic. The UN is reporting a massive decrease in access to modern contraceptives by millions of women, 18 million alone in Latin America and the Caribbean. International Planned Parenthood Federation, reports extensive closures of static and local clinics in the thousands across all regions leading to the scale down of HIV testing, contraceptive care, gender-based violence services and abortion care. 
With Covid-19 explicitly threatening the sexual reproductive health and rights (SRHR) needs of women, and the tight linkages to menstrual health and sexual health and pleasure, The Case For Her believes our work becomes even more relevant and urgent. In light of this, The Case For Her has moved additional grant funding, converted existing funding and made new convertible loans to the following and additional projects with the purpose of supporting women and girls in the times of the Covid-19 pandemic.  
Population Services International (PSI) Global Response Team
A global nonprofit organization founded in 1970, PSI works to provide information and improve the market for products and services around eight health areas, one of which is SRHR. The work led by PSI over the last fifty years strives to give consumers more control over their health through partnerships with governments and the private sector.
---
← In 2016, The Case for Her joined PSI in Nepal and discovered that menstruation can often be a conversation starter around sexual and reproductive health with young girls
---
PSI's Global Response Team will centralize a strategic response by creating country-specific plans that also ensure collective learning. The Global Response Team is working to help local governments develop practices for tracking outbreaks and establishing systems for prevention and response. These practices will help spread information, deliver training, and strengthen emergency operations systems for the current pandemic and beyond.
The Case For Her has been working together with PSI through the Maverick Collective for the past 4 years, specifically focused on taking a human centered design approach to menstrual health interventions for adolescent girls, along with establishing linkages between SRHR and menstrual health through PSI's extensive network and most recently engaging in global menstrual health advocacy. 
Acumen Covid-19 Emergency Relief Facility
Founded in 2001, Acumen is a global nonprofit organization that is changing the way the world tackles poverty. By investing in social enterprises and entrepreneurs, Acumen aims to transform lives and bring sustainable solutions that drive real change in developing countries.
Over nearly two decades, Acumen has worked to build an ecosystem of Fellows and social enterprises that deliver goods and services with a focus on the bottom of the pyramid. Now in the face of Covid-19 and social distancing, this ecosystem is at risk of unraveling. The Case for Her has joined a team of funders in donating to the Acumen Emergency Relief Facility, which was established to provide support and relief to social enterprises adversely affected or forced to modify in response to Covid-19.   
As the first grant ever made by our original foundation, Giving Wings, Acumen is a long-standing partner. With our funding evolving from investing in education portfolio companies to global and local leadership fellows, and now core funding for the organization, we understand the need for emergency funding across fellows and portfolio companies that are at the forefront of providing essential goods and services to those who need it most at the bottom of the pyramid. We believe that the Acumen Covid-19 Emergency Relief Facility will provide essential funding where other sources will be unable to reach.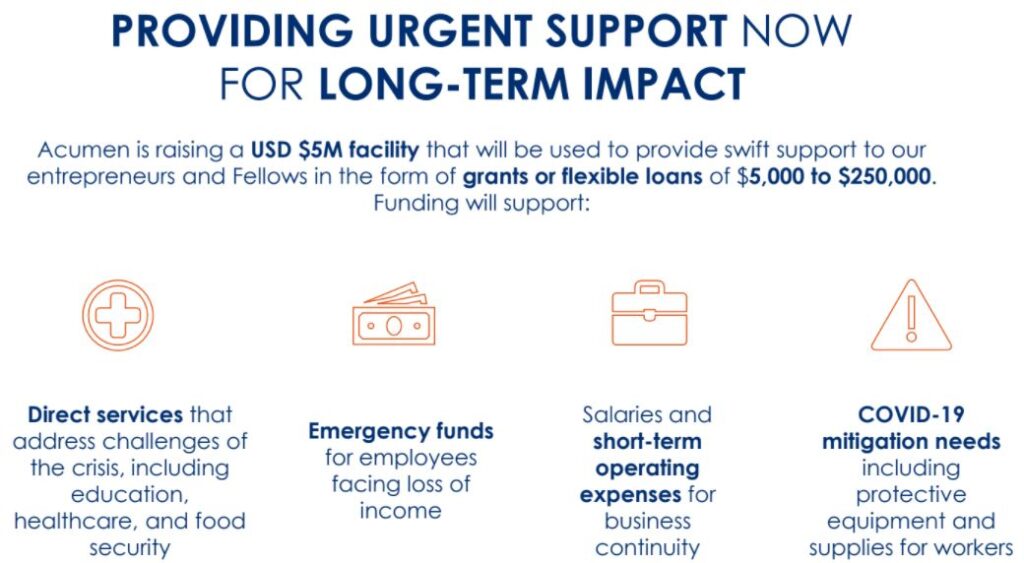 Social enterprises bring education, healthcare, financial services, and dignified jobs to vulnerable communities around the world. These entrepreneurs and their employees are also unlikely to qualify for government assistance during the Covid-19 crisis. In support of the Emergency Relief Facility, Acumen is currently working to raise $5 million that will provide small emergency relief and income protection grants as well as larger business loans in the range of $5,000 to $50,000 to ensure these vital programs are able to keep their doors open now and in the future.
The Billion Girls CoLab
The Billion Girls CoLab was established by the non-profit design firm IDEO.org to use human-centered design principles for improving the sexual and reproductive health and rights of adolescent girls in East Africa. In workshop settings, the Billion Girls collaborative platform brings together a range of stakeholders to rapidly explore, build, and test new ideas and solutions. 
The implications of Covid-19 for global sexual health and reproductive rights are far-reaching and health care systems, in general, are under growing stress as infection rates climb. We are currently collaborating with IDEO on a digital design sprint for the Billion Girls CoLab to develop infrastructure that helps adolescents get the sexual and reproductive health information and support they need while practicing social distancing. By bringing products, services, and information to young people directly, we hope to reduce the burdens of already stressed health care systems.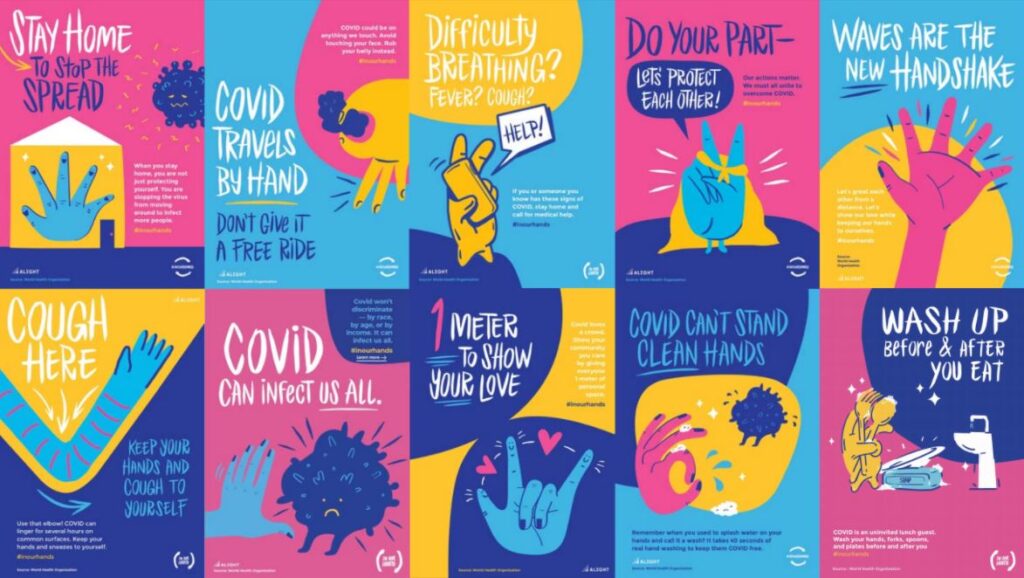 What comes next?
In addition to the projects above, we are providing much needed support and bridge funding to companies in our portfolio that are forced to delay capital raises due to Covid-19. We are also making first, single time unrestricted grants to several front line organizations addressing Covid-19 directly including the United Nations High Commissioner for Refugees (UNHCR), International Planned Parenthood Federation (IPPF), Kvinnojouren i Huddinge, and Doctors Without Borders. 
I would like to end by challenging each of you to push beyond your comfort zone to engage in what you believe matters most right now. The current crisis has created a plethora of opportunities to meaningfully engage, connect, participate and fund like never before. An incredible opportunity to make a difference within days and months where it may have taken years before. This is the chance to see impact in your lifetime on issues that rarely move. Now, is the time to leap forward and get uncomfortable. How could we make this lockdown worth it, beyond Covid-19?
I challenge you to slow down and see where you could speed up for the current possibilities to support women and girls.