How Saral Designs joined the fight against Covid-19
Saral Designs manufactures equipment for local production of menstrual pads, increasing access to high-quality menstrual care products and providing a means of income for distributors. Recently, the team at Saral has re-fit one of their production machines to deliver face masks for the Covid-19 crisis. In this post, Wendy Anderson, Co-founder of The Case for Her and member of Saral Designs Advisory Board, takes a look at their journey.
I met Suhani Mohan on a 2016 trip to India with Jacqueline Novogratz and Acumen. At that point, Suhani was an Acumen fellow developing an idea for improving the lives of women in India by providing affordable menstrual care items. Suhani and I spent an afternoon deep in discussion about her ideas and plans for creating a menstrual care company. Just two years earlier, Suhani was working as a Senior Financial Analyst when she heard that 80% of women in her home country of India were lacking the products to safely manage their periods. Using her financial expertise, Suhani decided to do something about this and began to do what she did best, look at the numbers and find out how to make pads more accessible and affordable.
Suhani was searching for a partner who was interested in menstrual health and manufacturing when she met Kartik Mehta, now co-founder of Saral Designs. Kartik, who is passionate about designing products that have a societal impact, had already designed and patented several devices including an automated page-flipping device for people with different abilities and a water-conserving flushing mechanism. Once he joined Suhani, Kartik began work on designs for manufacturing equipment that could produce affordable menstrual hygiene products.
"I was always passionate about innovating products that impacted people's lives. I was looking for opportunities where the scale of impact of the product would be huge and I found this perfect opportunity with Saral Designs."

– Kartik, Co-founder of Saral Designs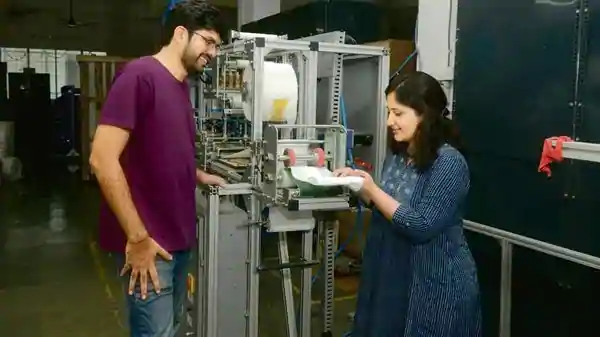 Today, there are 30 machines from Saral Designs out in the world producing high quality and affordable disposable menstrual pads, with each machine owner capable of producing and selling their own branded product. In Mumbai, where Saral Designs is based, Suhani and her team also work with a distribution network of 500 women who sell Saral's menstrual pads door-to-door—providing affordable products to low-income areas while providing much-needed earnings to the women. 
Earlier this year, Saral Designs began looking at other items they could produce using already established equipment and asking their buyers what sort of items would interest them. According to Suhani,
"In March one of our buyers asked us why we weren't making masks. We did some research and found out that masks were either out of stock or marked up to ten times the price, it was shocking."
The reason face masks were out of stock or marked up in price was that the Covid-19 pandemic had arrived in India. For Suhani, whose brother is a doctor and working at the front line, fears about Covid-19 are something she and her family knew closely. So once again, she decided to act. 
It turned out that the Saral team already had experience working with the type of materials needed to produce disposable masks and that one of their machines could be modified for this purpose. Because of social distancing, Kartik worked with his engineering team remotely and in just a few days, they were ready with designs to go into mask production. Unfortunately, another roadblock arose when India's Covid-19 lockdown hit. In the world's biggest lockdown, 1.3 billion residents in India were ordered to stay home. 
The team at Saral Designs was more motivated than ever to bring their mask making machine to production and join the fight. They approached automotive manufacturers the Mahindra Group about creating parts for their equipment and were not only met with a yes, but they were also offered a space to carry out their work. Just 100 hours after the first email exchange, the first masks were rolling off the production belt. Today Saral Designs produces 20,000 masks a day and is supplying their machines to various entrepreneurs and organizations as the demand for masks and mask making machines are on the rise globally.
One week after the Covid-19 lockdowns were put into place in India, the government declared menstrual care products were essential items—meaning production and distribution could resume. Still, many people were already facing difficulties obtaining these essential products, especially in areas of low-income and high population density. So, Saral Designs has begun donating its disposable menstrual pads to some of these communities. What remains to be seen, however, is the effect these lockdowns will have on Saral's production and distribution network since many of their unconventional methods of sales are currently on hold due to travel restrictions.
Image provided by Saral Designs
One of the most impressive things about Saral Designs is the innovation and drive of the people behind these machines. I am proud to know and advise Suhani and Kartik. They have a passion for improving the world, especially for women—something we at The Case for Her can relate to.