Ensuring the critical health needs of menstruators with a new tool for monitoring and evaluating menstrual needs.
Photo by Ed Ram for AFRIpads
In order to understand and address the needs of menstruators and ensure their overall health and well-being, we need a more holistic view of the menstrual experience. That's why we chose to invest in the Menstrual Practice Measures project and the development of the Menstrual Practice Needs Scale (MPNS-36). The MPNS-36 was designed to look at the experience of menstruators, rather than their practices alone—making it possible to more accurately monitor and evaluate the impact of interventions. 
The MPNS-36 measures the extent to which menstrual management practices and environments are perceived to meet the needs of menstruators during their last period. This perception is important and under-addressed. When organizations evaluate menstrual health practices, their methods are designed around what they think is important, but menstrual health is about body ownership and the lived experience. To find solutions that make a real difference, you must go directly to the women and girls.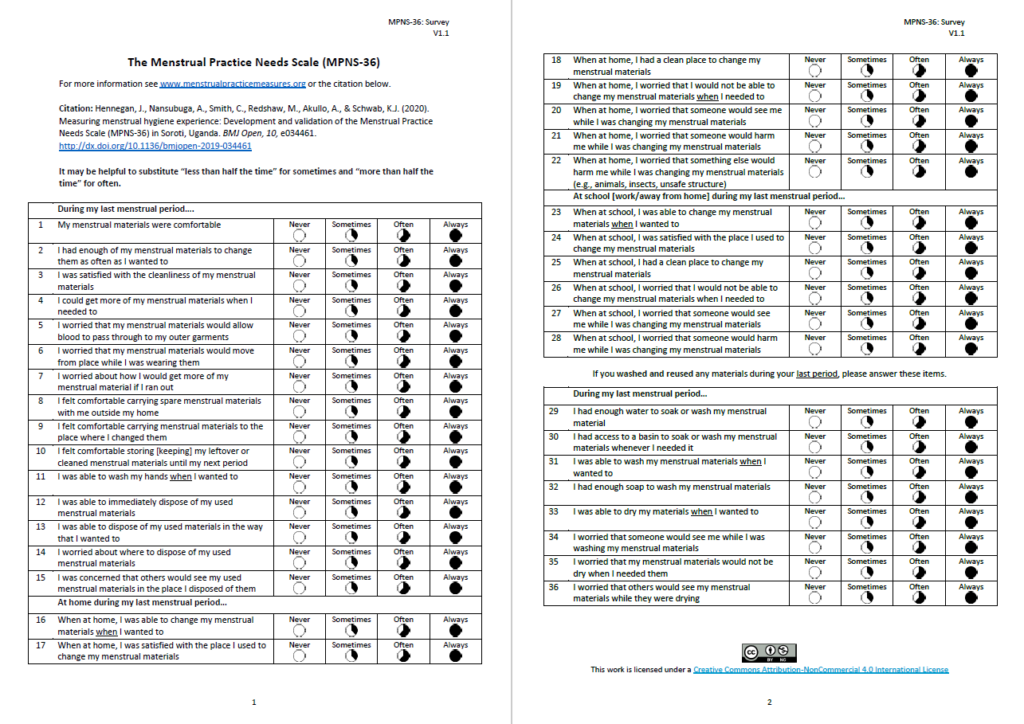 To develop this tool, Dr. Julie Hennegan of the Johns Hopkins Bloomberg School of Public Health led a review of 76 studies (representing over 6,000 women and girls) that documented the experience of menstruation in low- and middle-income countries. According to Dr. Hennegan:
"In most measurements of menstrual health, the focus has been on the practices that women or girls undertake, such as the type of material or product they use to absorb their menses. While these questions may help us to understand what women and girls are doing, they do not capture whether these practices meet their needs."
In partnership with Irise International and Irise Institute East Africa, the scale was tested in a survey of 538 menstruating schoolgirls in Uganda—helping to narrow down the items and test the scale's performance. More details about the development and validation of MPNS-36 can be found in BMJ Open. 
At The Case for Her, we are looking forward to seeing this scale implemented in intervention programs around the world. We see the MPNS-36 as a stepping stone to menstrual health and hygiene solutions that are situationally appropriate and designed with the menstruator's experience in mind. 
---