Recapping our live New Blood Awards Q&A with Teen Vogue.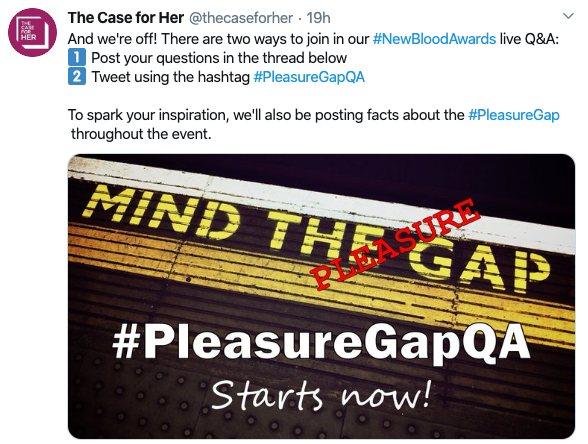 With the deadline for the 2020 New Blood Awards approaching (March 24, 17:00 GMT!), we recently hosted a live Q&A on Twitter with our brief partner Teen Vogue to answer your burning questions. For one hour, our three panelists chatted about everything from what they are looking for in submissions, to what three words come to mind when they think about female sexual pleasure.
Meet the panel
When it comes to what they want to see in submissions, the judges will be looking for ideas that are well thought through and realistic. As great as it is to see something that is super fun or cool, the best ideas are the ones that feel like they could really work and change people's lives. Our Black Pencil winner from last year, Pad Paper, had one of the judges asking why they hadn't thought of it already because it was such a simple and smart solution. 
The full Mind the Pleasure Gap jury includes Creative Directors, Founders, and Designers, and all submissions will be judged based on three criteria: 
☑️ Is it a good idea?

☑️ Is it well-executed?

☑️ Is it relevant to the brief?
Let's look at some of the themes and questions that came up in the #PleasureGapQA discussion on February 20.
Theme #1: Pleasure and sex education
Even though progress is being made, why do you think that women's sexual pleasure remains a taboo in 2020? – @just_two_ghosts
Gerda – Love this question! I think it has to do with a history of moralisation around female sexuality as a way to keep women at bay. Today women sexual liberation is one of the last freedom movements and thats one of the reasons people fight it 
How would you describe female sexual pleasure in 3 words? – @just_two_ghosts
Gerda: Ahhhh Ohhhh Mmmm!
Gerda: Or… A Political Matter
Cristina: Unique to me!
Brittney: Whatever feels good!
As a Dutch citizen, I'm not familiar with the American sex education standards other than the information I can access via research. I'd like to know what your experience with Sex ED was like when you were younger? – @just_two_ghosts
Brittney: In the states there is no standard for sex ed! We have a patchwork system, creating gaps & inequity. Many states mandate abstinence-only education, which research shows is ineffective. Here are examples: https://t.co/QuWPY7haZj
Cristina: Back in the day…. 🙂 the sex education that I received included learning some of the body parts and putting a condom on a banana.  I don't remember any discussion of pleasure… or gender… or consent…
Theme #2: Submission content
Is this brief more focused on raising awareness or education? – @nicnacstockdale
Brittney – They go hand in hand! With more education comes more awareness. We're open to a diverse set of submissions, so send us ideas that consider both or either components.
Given that most of the discussion around this topic is centered around cis women vs cis men's orgasms and their anatomies, how do you see femme-identifying women without female reproductive anatomies being included in this conversation? – @erinayalp
Gerda: Pleasure is not about P in the V. Expanding the research and scope on pleasure is crucial for a inclusive discourse! Would love to see diverse submissions 🙋🏼‍♀️
Brittney: Great question! We definitely want submissions that are inclusive of all people, regardless of gender. Since the convo has been cis-centered, this is a great opportunity to create awareness, education, & tools to open it up. Women's pleasure isn't relegated to anatomy
How produced/complete should the actual content be within the proposal video or presentation? – @erinayalp
Gerda: Well thought through is the mayor criteria. I suggest you take a look at last years winning ideas http://bit.ly/36ZLLBZ Last year it differed between submissions. A great idea will take you far!
How crude is too crude for branded content? – @cklingen24
Brittney: The pleasure gap stems from patriarchal views on sex and pleasure. The judges will be keeping an open mind, but any submissions that can be seen as degrading, demeaning, or exotifying likely won't make it very far.
If the concept is realistic, but you, in particular, can't produce it, is an example of how would it work enough? – @kokaineco
Gerda: We love to see submissions that are possible to create. However you compete with an idea of how to close the pleausre gap even if it's an idea that would be hard to implement
Cristina: You bet!  We love to see big ideas!
Are we able to use The Case for Her logo in promotional images/poster-like content on social media – @cklingen24
Gerda: Love seeing our logo on submissions
Cristina: Absolutely!!!
Are we allowed to use other variations of the logo rather than the one included in the brief pack? For example, the one you use on the website on the left top corner? – @kokaineco
Cristina: Go for it!  Would love to see you get creative and innovative!
Theme #3: Desired outcomes
Aside from raising awareness or educating Teen Vogue's audience, what would be the ideal outcome for TCFH – more social followers, site visits, partnerships? – @erinayalp
Gerda: For us it's a great way to get to know what's needed and where we should be putting our efforts. Last year we saw trends like homelessness, stigma and taxation. Exciterd to see what this years submissions will show
what would the ideal outcome be for the case for her (more followers, more people talking about pleasure in general, more donations) – @jordangravely
Gerda: Awerness about pleasure, more people feeling proud, confident and daring to talk about their pleasure. TCFH is self funded. But we would love to see a global movement demanding access to info, education and resources
Cristina: We would like to see ideas that break the global stigma of female pleasure.  Hoping to see some submissions that firmly place pleasure in the health and wellness arena!
Other topics
Twitter user @just_two_ghosts put forward a couple of great questions for Brittney about the Teen Vogue audience:
…have you noticed any recent shifts in the target audience their interests?
…how would you describe the relationship that the Teen Vogue's audience has with sexual health and pleasure?
Brittney: Young people consistently want to learn about sex. It's been that way forever! I think the only change is that we're all more open about different kinds of relationships — things are getting more inclusive.
Teen Vogue readers want to learn! They are interested in accurate info about their bodies, and want to know about sex in a realistic way. Our articles about sex and bodies consistently perform well, meaning young people are looking to us as a source of education.
Submission details
To enter the New Blood Awards on March 24, you must be:
A student of any age, enrolled at least part-time in a higher education course 
-OR- 
Over the age of 18 and not (now or for more than 6 months in the past) employed in the creative industries
If you're still unsure about your eligibility, there is a quiz you can take to help clear things up. 
The judging process takes place during April and May, after that the winners will be revealed, but it won't be until the New Blood Ceremony in July that winners will find out what Pencil level they have received. Every entry that is shortlisted receives a Wood Pencil, but there are additional prize levels for the most impressive submissions.
✏️ Graphite Pencil: Awarded for hitting all judging criteria
✏️ Yellow Pencil: Awarded for outstanding work that hits all judging criteria
All Graphite and Yellow Pencils are up for the ultimate prize, the Black Pencil—the best of the best that will share a £2000 prize fund. Last year there were three Black Pencils out of the 173 Pencil winners.
Everyone who wins a Pencil has the opportunity to apply for a spot at the WPP New Blood Academy, a two-week creative boot camp. From the Mind the Pleasure Gap Pencil winners, Teen Vogue will hand-select submissions to be featured on the Teen Vogue website and promoted on social media.
For more inspiration for Mind the Pleasure Gap, check out #PleasureFact on Twitter and keep an eye on our feed for more highlights from last year's pencil winners.
Good luck, everyone!