This week, Mexico City was abuzz with sexual pleasure. Sexual health educators, policy makers, gynecologists, product companies, activists, and investors came together at the 24th Congress of the World Association for Sexual Health (WAS) to talk about sex. The most urgent item on our agenda? Forming the World Congress' Declaration on Sexual Pleasure as it relates to sexual health and rights.
Having worked in women's rights for nearly 10 years, I know firsthand that the fight for sexual health is one of the most pressing challenges of our time — and that pleasure, the leading driver of sex, is key to addressing it.
Sex education around the world often focuses on contraception, disease, fear, and shame, neglecting to inform young people about the sexual act itself. This is especially true in low-income settings where sex education programs ignore pleasure, considering it a superfluous topic of privilege. But this kind of curriculum is not working, even according to its narrow objectives: more than one billion people have a sexually transmitted infection (STI) globally, and one-fourth of women who want to avoid pregnancy are not using effective contraceptive methods (Ford et al, 2019). Given that 42% of the global population is under the age of 25, the need to re-align our approaches to sex education is urgent.
Pleasure is the missing link between informed decision-making and sexual wellness. Putting sexual pleasure at the forefront of these educational conversations will allow for a more holistic understanding of sex in terms of love, communication and consent, natural human desire, and safety and contraception. As Anne Philpott, founder of The Pleasure Project, put it: "When we teach young people to cook we don't just give them the ingredients and say 'you'll figure it out.' So why do we do that with sex?"
Putting an emphasis on female sexual pleasure is particularly important in these conversations. Female pleasure is consistently deprioritized in sexual encounters, encouraging women to engage in unwanted sexual acts and exacerbating large-scale gender inequalities.
WAS first published its Declaration of Sexual Rights in 1997. Over twenty years later, the WAS Declaration on Sexual Pleasure, published on Wednesday, officially recognizes the importance of sexual pleasure to our health. While long overdue, this is a great step in putting forward a common understanding to guide all of us — and one with the buy-in of the world's top sexual health scientists and organizations.
The next step is implementation. For that, we need more evidence on what actually works in supporting sexual pleasure — and more funding to make that happen. The Declaration addresses this, urging all players in sexual health to further public understanding of sexual pleasure, including "rights-based funding resources, research methodologies, and dissemination of knowledge to address the role of sexual pleasure in individual and public health" (Section D). We especially need more research on implementation and outcomes across geographies and class.
The Case for Her is leading this charge with our newly launched female sexual pleasure investment portfolio including The Pleasure Project, a safe sex educator focused on satisfaction, desire and pleasure, Unbound, a sex product company changing how people explore and enjoy their sex lives, and a youth-centered sex education research program with YLabs in El Salvador. But we can't do it alone. We need more funders — from institutions like the World Health Organization to individual private investors — to join us in this endeavor of backing female sexual pleasure for a whole and healthy world.
---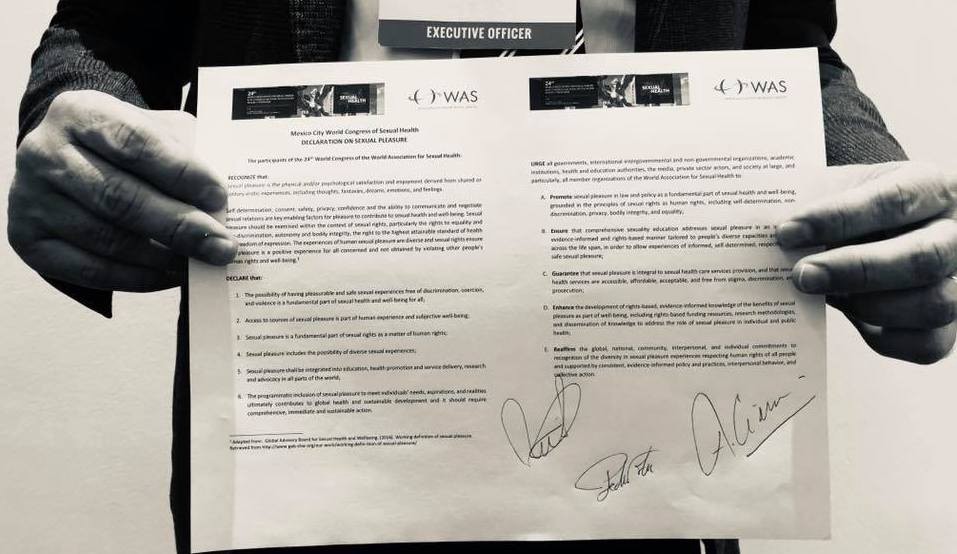 Mexico City World Congress of Sexual Health
Declaration on Sexual Pleasure
The participants of the 24th World Congress of the World Association for Sexual Health in Mexico City:
𝗥𝗘𝗖𝗢𝗚𝗡𝗜𝗭𝗘 𝘁𝗵𝗮𝘁:
Sexual pleasure is the physical and/or psychological satisfaction and enjoyment derived from shared or solitary erotic experiences, including thoughts, fantasies, dreams, emotions, and feelings.
Self-determination, consent, safety, privacy, confidence and the ability to communicate and negotiate sexual relations are key enabling factors for pleasure to contribute to sexual health and well-being. Sexual pleasure should be exercised within the context of sexual rights, particularly the rights to equality and non-discrimination, autonomy and bodily integrity, the right to the highest attainable standard of health and freedom of expression. The experiences of human sexual pleasure are diverse and sexual rights ensure that pleasure is a positive experience for all concerned and not obtained by violating other people's human rights and well-being*.
𝗗𝗘𝗖𝗟𝗔𝗥𝗘 𝘁𝗵𝗮𝘁:
The possibility of having pleasurable and safe sexual experiences free of discrimination, coercion, and violence is a fundamental part of sexual health and well-being for all;

Access to sources of sexual pleasure is part of human experience and subjective well-being;

Sexual pleasure is a fundamental part of sexual rights as a matter of human rights;

Sexual pleasure includes the possibility of diverse sexual experiences;

Sexual pleasure shall be integrated into education, health promotion and service delivery, research and advocacy in all parts of the world;

The programmatic inclusion of sexual pleasure to meet individuals' needs, aspirations, and realities ultimately contributes to global health and sustainable development and it should require comprehensive, immediate and sustainable action.
𝗨𝗥𝗚𝗘 all governments, international intergovernmental and non-governmental organizations, academic institutions, health and education authorities, the media, private sector actors, and society at large, and particularly, all member organizations of the World Association for Sexual Health to:
Promote sexual pleasure in law and policy as a fundamental part of sexual health and well-being, grounded in the principles of sexual rights as human rights, including self-determination, non-discrimination, privacy, bodily integrity, and equality;

Ensure that comprehensive sexuality education addresses sexual pleasure in an inclusive, evidence-informed and rights-based manner tailored to people's diverse capacities and needs across the life span, in order to allow experiences of informed, self-determined, respectful, and safe sexual pleasure;

Guarantee that sexual pleasure is integral to sexual health care services provision, and that sexual health services are accessible, affordable, acceptable, and free from stigma, discrimination, and prosecution;

Enhance the development of rights-based, evidence-informed knowledge of the benefits of sexual pleasure as part of well-being, including rights-based funding resources, research methodologies, and dissemination of knowledge to address the role of sexual pleasure in individual and public health;

Reaffirm the global, national, community, interpersonal, and individual commitments to recognition of the diversity in sexual pleasure experiences respecting human rights of all people and supported by consistent, evidence-informed policy and practices, interpersonal behavior, and collective action.
*Adapted from: Global Advisory Board for Sexual Health and Wellbeing (2016). Working definition of sexual pleasure.